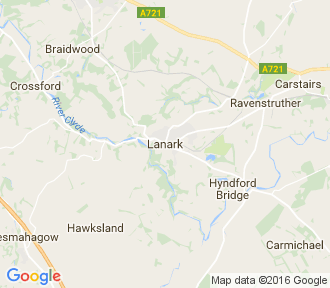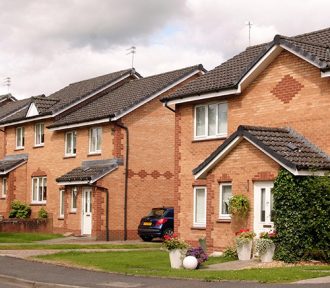 The rural centre of South Lanarkshire, Lanark is a traditional market town with a long and interesting history.  With excellent rail, road and public transport links, Lanark has a busy shopping area, various schools and churches, a large public library, a sports centre (with pool) and a range of high quality public parks.  The World Heritage Site of New Lanark is located nearby.
Dovecote Lane
Completed in 2020, these four flats are located above our new offices. Right in the centre of Lanark, the development comprises 1 two bedroom and 3 one bedroom flats. With controlled entry and gas central heating, these flats are very popular.
Forsyth Ct/St. Mary's Ct
Built in 2000, this 24 property development is situated within a new estate contructed by Persimmon Homes.  Located within a ten minute walk of Lanark's town centre this development comprises 8 two bedroom and 16 three bedroom semi-detached homes. All properties have driveways, open-plan front gardens and enclosed rear gardens.  These houses are gas central heated.
Greyfriars Court
Located on the site of a medieval monastery in the centre of the town, Greyfriars Court provides at total of 19 homes: 18 rented and 1 shared ownership.  Built in 2000, Greyfriars Court is made up of 6 one bedroom and 12 two bedroom flats.
Built to amenity standard, the development is designed around a centra courtyard which provides parking facilities. All properties have electric heating.
Gushet Place
Located close to the town centre, Gushet Place provides 10 amenity standard one bedroom flats arranged around a private courtyard.  Built in 1996, all flats have electric storage heaters.
North Vennel
In the heart of Lanark town centre, North Vennel comprises of 8 two bedroom flats – 3 ground floor, 3 first floor and 2 second floor.  Completed in 2006, this development is heated by electric storage heaters.
Rodding/Westworth Place
Built in 2010 this development has 24 2 bedroom flats across a range of cottage flats and tenement flats. Close to a local primary school and large superstore this development is a short walk away from Lanark's local amenities. All properties are gas central heated.
Smiddy Court
Constructed in 1994, Smiddy Court offers 16 properties (mainly flats): 11 one bedroom and 5 two bedroom.  All properties have main door entry and are only two minutes walk from the town centre.  Smiddy Court is heated by electric storage heaters.
Stanmore Ave/Stuart Dr
Acquired by the Association from Scottish Homes in 2002, these 12 mid and end-terraced properties were built in 1955.  Providing a range of two and three bedroom family homes these properties have both front and rear garden spaces.  All properties are gas central heated.
Wellgate
In the heart of Lanark town centre, Wellgate provides 11 one bedroom flats.  Built in 1995, these properties are heated by gas central heating.