Clydesdale Housing Association's CHA Community Hub in Lanark has been officially opened by Mairi McAllan MSP and Minister for Environment & Land Reform.
Part of a new build project that delivered four flats for social rent and offices for the Housing Association, the CHA Community Hub was constructed in February 2020 – however, just a month after completion, the facility was closed as part of the first Covid lockdown.
At the opening event on 27 March, Maggie Botham, Chair of the Housing Association said, "We are delighted to now be up and running, hosting diverse activities with a number of groups, including but not limited to English Speaking Classes, a Ukulele group, a befriending group, the local Art Club, our own tenants' and residents' group and the TSB, who provide weekly outreach banking services following the closure of the local branch.  And many more besides!
Our vision for the Hub was to provide facilities not only for our tenants and local groups, but also for the wider rural community.  We hoped that sharing our space with like-minded organisations and those providing vital services would support and sustain a better quality of life in the rural area, and support health and wellbeing throughout the community.  We can now see that this is being realised, and that the groups who use the Hub add immense value to our local community in the work that they do. 
The Hub is the sort of place that will foster and enable further collaboration and partnership working over time; think of the possibilities for bringing even greater benefits to those who live in the rural area when we work together."
The building received the Scottish Property Awards 2021 'Architectural Excellence Award (commercial use)' – great recognition for the hard work from everyone involved, and testament to the quality of the design by Gary Pinkerton from Grant Murray Architects.  The building has significantly improved this part of Lanark and enhanced the working environment for CHA staff.
Mairi McAllan MSP commented "It was an honour to help officially open the Clydesdale Housing Association Community Hub in Lanark. I have no doubt this will be a fantastic base from which the dedicated team at CHA can continue the hard work they do for their tenants throughout Clydesdale. Equally, the building will serve a wider purpose as a community hub. With somewhere to gather and spend time together, 'people' become a 'community'. This is needed now more than ever and I'm delighted that Clydesdale has gained this fantastic resource. Therefore, on a beautiful Spring morning, as sunlight flooded through the architecturally designed windows, it was my privilege to officially open the CHA Community Hub and I wish the whole team every success for the future"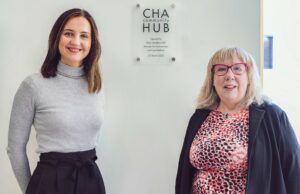 Pictured (left to right): Mairi McAllan MSP and Maggie Botham, CHA's Chairperson.
Background:
Construction on the CHA Community Hub was completed in February 2020 and was funded by Clydesdale Housing Association, Lanarkshire Leader, the South Lanarkshire Renewable Energy Fund and the Scottish Landfill Communities Fund.
Contact CHA on 01555 666316 or mail@clydesdale-housing.org.uk if you are interested in making a booking or finding out more.